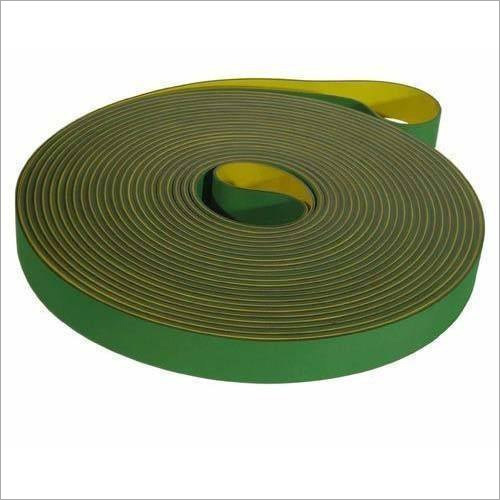 Product Specifications
Industrial

Tangential Belts
Trade Information
3 Piece Per Week

4-5 Days

All India
Product Description
Tangential belts, often referred to as spindle tapes or tangential drive belts, are a form of power transmission belt that is frequently employed in many different sectors, particularly in the production of textiles and printing procedures. These belts are made for tangential power transmission, which involves transferring motion and power by making contact with the outer circle of a pulley or roller.
The following are some salient characteristics and uses of tangential belts:
1. Tangential belts are often constructed from a variety of materials, including rubber and synthetics like polyurethane. To add strength and stability, layers of cloth or cord are frequently layered on top of them.
2. Tangential Drive: Tangential belts convey power through the belt's outside surface as opposed to conventional flat or V-belts, which transfer power through friction between the sides of the belt and the pulley. It is possible to transfer power effectively and with less slippage when the belt is in tangential contact with the pulley.
3. Tangential belts are frequently employed in the textile industry, particularly during operations like spinning, twisting, and winding. To provide rotating motion for winding or unwinding yarn, they are used to drive spindles or bobbins.
4. Printing Industry: For paper handling and registration control, tangential belts are also used in the printing industry. They make it possible for paper or print media to be moved precisely and dependably through printing machines and other machinery.
5. Tangential belts have some elasticity, which enables them to adapt to pulley shapes and absorb slight misalignments. To transmit power in the desired manner and keep a firm grasp on the pulley, they can be tensioned.
6. Tangential belts can be produced at extensive lengths, making it easier to employ them in machinery that needs long belt runs or several pulleys.
7. Wear and Maintenance: Tangential belts must be regularly inspected and maintained to work at their best. Their longevity depends on proper tensioning, regular cleaning, and replacement of worn-out or damaged belts.
It's crucial to take into account details like the required power transmission capacity, operating speed, pulley diameter, and the particular application requirements while choosing tangential belts. The best tangential belt for a given use case can be selected with the assistance of belt manufacturers or industry specialists.
Product Details
| | |
| --- | --- |
| Country of Origin | Made in India |
| Size | customized |
| Type | Flat belt |
| Material | Rubber nylon and leather |
| Brand | Punjab / Ammeraal |
Enter Buying Requirement Details