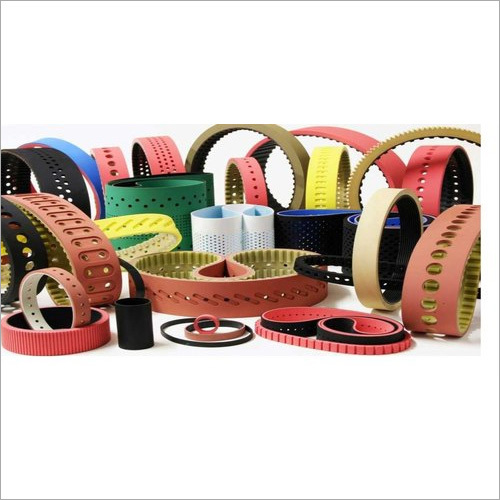 Product Specifications
Industrial

Timing Belt

Multi color
Trade Information
3 Piece Per Week

4-5 Days

All India
Product Description
A coated timing belt, often referred to as a coated synchronous belt or a timing belt with a coating, is a form of power transmission belt used in machinery and equipment that needs exact timing and synchronisation of rotating movements. It is a timing belt that has been coated to protect the surfaces or teeth.
The following are some essential qualities and traits of coated timing belts:
1. Coated timing belts are made to precisely transfer rotational power between the driving and driven components while upholding exact time and synchronisation. The pulleys' grooves or sprockets and the belt's teeth interact to ensure appropriate alignment and prevent slippage.
2. Timing belts that have been coated have a protective coating put on their teeth or surfaces. This coating has several functions and is often comprised of rubber or polyurethane materials. It extends the belt's lifespan and increases its resistance to abrasion, wear, and chemical deterioration.
3. The coating on the timing belt teeth or surfaces improves grip and traction, lowering the possibility of belt slide, and assuring effective power transfer. This is crucial in situations where the belt may be exposed to pollutants or moisture, such as high-torque applications.
4. Noise reduction: By reducing the impact and vibration between the timing belt and the pulleys, the coating on the timing belt teeth can help with noise reduction during operation. This may be helpful in situations where noise reduction is important.
5. Increased Flexibility: The timing belt's coating may make it more flexible, enabling it to better adapt to the contour of the pulley and lessen bending stress. This adaptability helps to increase overall performance and smoother operations.
6. Application Flexibility: Coated timing belts have a wide range of uses, including in the automotive, robotics, packaging, printing, and textile manufacturing industries. They are employed in situations where precise motion control, perfect timing, and durability are necessary.
7. Maintenance and replacement: To maintain optimum performance, coated timing belts need routine examination and precise tensioning. In order to preserve correct operation and avoid any negative impacts on timing and power transmission, it is crucial to replace the belt if the coating is worn out or damaged.
It is essential to take into account details such belt size, pitch, tooth profile, and the particular requirements of the application when choosing a coated timing belt. It will assist to maximise the belt's lifespan and ensure dependable and effective performance to adhere to the manufacturer's installation, tensioning, and maintenance instructions.
Product details
| | |
| --- | --- |
| Country of Origin | Made in India |
| Material | PU |
| Is It Customized | Customized |
| Packaging Type | suitably packed |
| Rubber | Rubber as well as PU |
| Product Code | PEI |
| Thickness | varied |
| Surface Finish | varied |
| Structure | Belt Conveyor |
| Usage/Application | Industrial |
Enter Buying Requirement Details