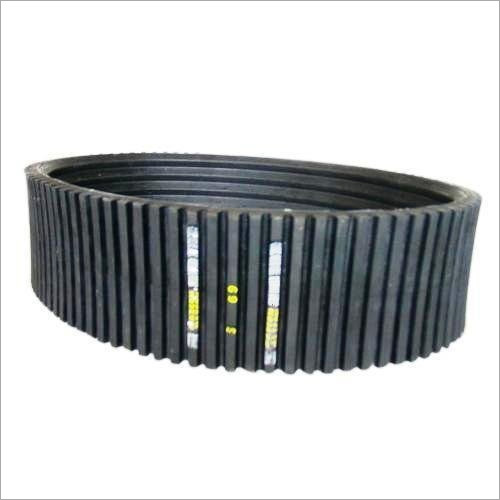 Trade Information
3 Piece Per Week

4-5 Days

All India
Product Description
Caterpillar belts are a form of power transmission belt used in tracked vehicles like bulldozers, excavators, and other large machinery. They are sometimes referred to as track belts or track chains. It is made specifically to offer traction and propel the vehicle's movement through a variety of terrains.
The following are some essential qualities and traits of caterpillar belts:
1. Caterpillar belts are made up of track links, which are a collection of connected rubber or metal segments. These connections make a continuous loop, forming a track that encircles the car's undercarriage.
2. Caterpillar belts are designed to give great grip on a variety of conditions, including uneven ground, soft soils, and difficult terrain. Because of this, the vehicle can manoeuvre well and operate with stability.
3. Caterpillar belts' load distribution technique spreads out the vehicle's weight across a broader surface area, lowering ground pressure and lowering the chance of sinking into squishy or muddy ground. For big machinery functioning under difficult circumstances, this is essential.
4. Caterpillar belts are strong and able to handle heavy loads, impacts, and harsh environments. To ensure endurance and resilience to wear and tear, they are built utilising sturdy materials like steel or reinforced rubber.
5. Adjustable Tension: In order to maintain peak performance and minimise slippage, Caterpillar belts can be properly tensioned. Idler wheels or hydraulic mechanisms are used as tensioning systems to maintain the belt taut and in contact with the drive sprockets.
6. Maintenance: To ensure the smooth operation and long life of caterpillar belts, regular maintenance is required. This involves checking for worn or damaged track links, repairing them, lubricating the joints, and ensuring that the tension is appropriate.
7. Track Configurations: Depending on the vehicle and the intended application, Caterpillar belts are available in a variety of configurations. To optimise performance for particular terrains or jobs, the specific design, including the width, shape, and profile of the track connections, might vary.
Caterpillar belts are specialised parts created for particular tracked vehicles, it is vital to remember this. Caterpillar belts should be chosen and installed in accordance with the manufacturer's recommendations and requirements for the specific vehicle model and application. To ensure the tracked vehicle operates safely and effectively, routine inspection, maintenance, and replacement of worn or damaged track links are essential.
Enter Buying Requirement Details