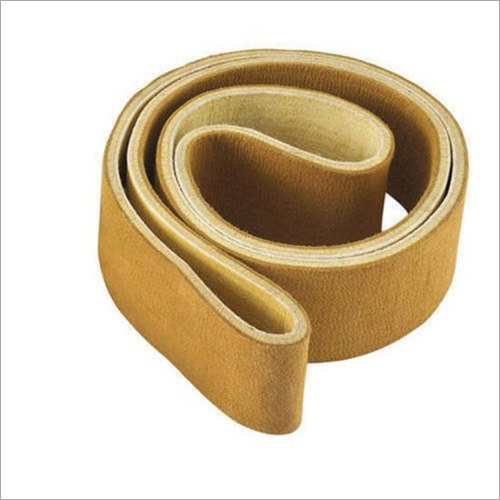 Price And Quantity
1 , , Piece

2000 INR/Piece
Trade Information
3 , , Piece Per Week

4-5 Days

All India
Product Description
A specialised kind of belt used in the aluminium extrusion sector is an aluminium extrusion felt belt, also known as an aluminium profile feeling belt or an aluminium conveyor felt belt. In order to move aluminium profiles smoothly during the extrusion process, it is made to endure high temperatures.
The following are some essential qualities and traits of aluminium extrusion felt belts:
1. High-Temperature Resistance: The materials used to make aluminium extrusion felt belts are often a combination of heat-resistant binders and synthetic fibres like aramid or polyester. These belts can endure the high temperatures, which can range from 392 to 1112 degrees Fahrenheit (200 to 600 degrees Celsius) during the aluminium extrusion process.
2. A felt belt made of aluminium extrusion is intended to provide a surface that is both smooth and non-stick. This makes it possible to carry the aluminium profiles easily and smoothly by preventing them from sticking to the belt during extrusion.
3. Aluminium extrusion felt belts' materials are chosen for their durability and resistance to wear and abrasion. As a result, the belt will last longer and require fewer replacements overall.
4. Aluminium extrusion felt belts are made to preserve their dimensions and shape even when exposed to extreme temperatures. This stability contributes to maintaining the consistency of product quality and precise profile dimensions.
5. These belts can be altered in length, width, thickness, and surface finish in order to satisfy certain needs. To improve strength and performance, they can be produced with various ply configurations or layer arrangements.
6. Chemical Resistance: Aluminium extrusion felt belts typically have a high level of resistance to the various lubricants and chemicals used in the extrusion process, lowering the possibility of chemical degradation or belt damage.
7. Maintenance and Cleaning: To ensure optimum performance and avoid contaminating the extruded profiles, proper maintenance and routine cleaning of aluminium extrusion felt belts are crucial. To remove any dust or debris made of aluminium, cleaning techniques may include vacuuming, brushing, or air blowing.
Aluminium extrusion felt belts are specialised goods created especially for the aluminium extrusion sector, it is vital to highlight. Based on the requirements for the particular application, such as the temperature range, belt dimensions, extrusion speed, and the kind of aluminium profiles being transported, they should be chosen. To choose the right belt for a specific aluminium extrusion process, consulting with belt makers or industry specialists is advised.
Product details
| | |
| --- | --- |
| Brand | Pei |
| Thickness | Customised |
| Roller Type | Felt |
| Temperature Resistivity | 500 |
| Operating Temperature Range | 100-500 |
| Length Of Belt | Customized |
| Working Temperature | 100-600 |
| Application Area | Aluminium Extrusion Lines |
| Features | Heat Resistant |
| Belt Width | Customised |
| Belt Thickness | Customised |
| Usage/Application | Aluminium Extrusion Industries |
| Material | Non Oven Felt |
Enter Buying Requirement Details